There are 7 critical dimensions I use in my client work for improving business performance. It helps with both strategy for innovation and improvement projects. Whatever your business ambition – and whatever level of income, influence and impact that you want to get to next in your business growth, I believe you should build your leveraged strategy from the inside out.
Every business needs a tune-up or an oil change from time to time, because the elements we're facing in the marketplace are changing. So in this episode, I'm handing you the tool box and in my follow-on article next week, I'll show you the tools inside it and how to use them.
PREFER TO LISTEN?
If you've started 2021 still scratching your head how to improve business performance so you can create more leverage and grow faster, this article will help give you some starting points for identifying the critical levers so you know what to push and what to let go of.  The aim is to give you a way to evaluate the weakest links and plan strategically, knowing where to make improvements tactically.
Understanding the Critical Parts for Unclogging Your Business Engine
Last week, I talked about 7 Dimensions for Building a Thriving Service Business
-and I introduced you properly to iSuccess – both in terms of my brand name and my expert system. It's the framework I use working with clients to improve critical elements in their business architecture and processes that are holding back success, and in particular, growth.
So, what that means is it's the tool I use working with clients to look specifically for the bottlenecks, the barriers and areas that need strengthening. It's incredibly powerful to pinpoint exactly what those things are so you know what to prioritise. And the businesses I've used it with, it's really opened up not only the operational blockages but the mental blockages too.
Now iSuccess is the inside cog of a bigger machine – your business. It's like the engine and sometimes it gets clogged or a part is broken or missing. And so, when that's the situation – if the inner "workings" – the engine of your business, what I often refer to as the business architecture – aren't working that great or aren't well-balanced – that's when as the business owner, you experience frustration and stress.
It's that feeling that you're working hard on things that don't bear fruit. I've been there myself, so have many of my clients – mostly that's why they come to me – and I'm sure it sounds familiar to you too, now or at some time in your business.
Every business needs a tune-up or an oil change from time to time, because the elements we're facing in the marketplace are changing. Today's climate is not the same as last year's climate or the year before. Certainly, in most industries, our marketplaces are very different to what they were.
So, we need a new engine or at least a good tune-up, if we want to drive the bigger machine –effectively. And by bigger machine I mean your business – we can use the analogy of a car or a plane – it's not a bicycle.
How the Leveraged Business Flywheel Helps You Grow Faster
Now this bigger machine, that's your business – and we're going to imagine the dynamics of it as a flywheel. If you look on the front cover of my book, Leveraged Consulting in the Digital Age, the image there, that's the leveraged business flywheel in its full glory.
A flywheel captures the heart and soul of your business, not just the operational machinery. It's what determines whether you choose to drive a Ferrari or a people carrier, a 4×4 or a van, a private plane or a jumbo jet. It's incorporates your vision and your values – the why, what and the how of your business. It's your strategy. And that's what iSuccess and the Leveraged Business model helps with. The inner and the outer workings.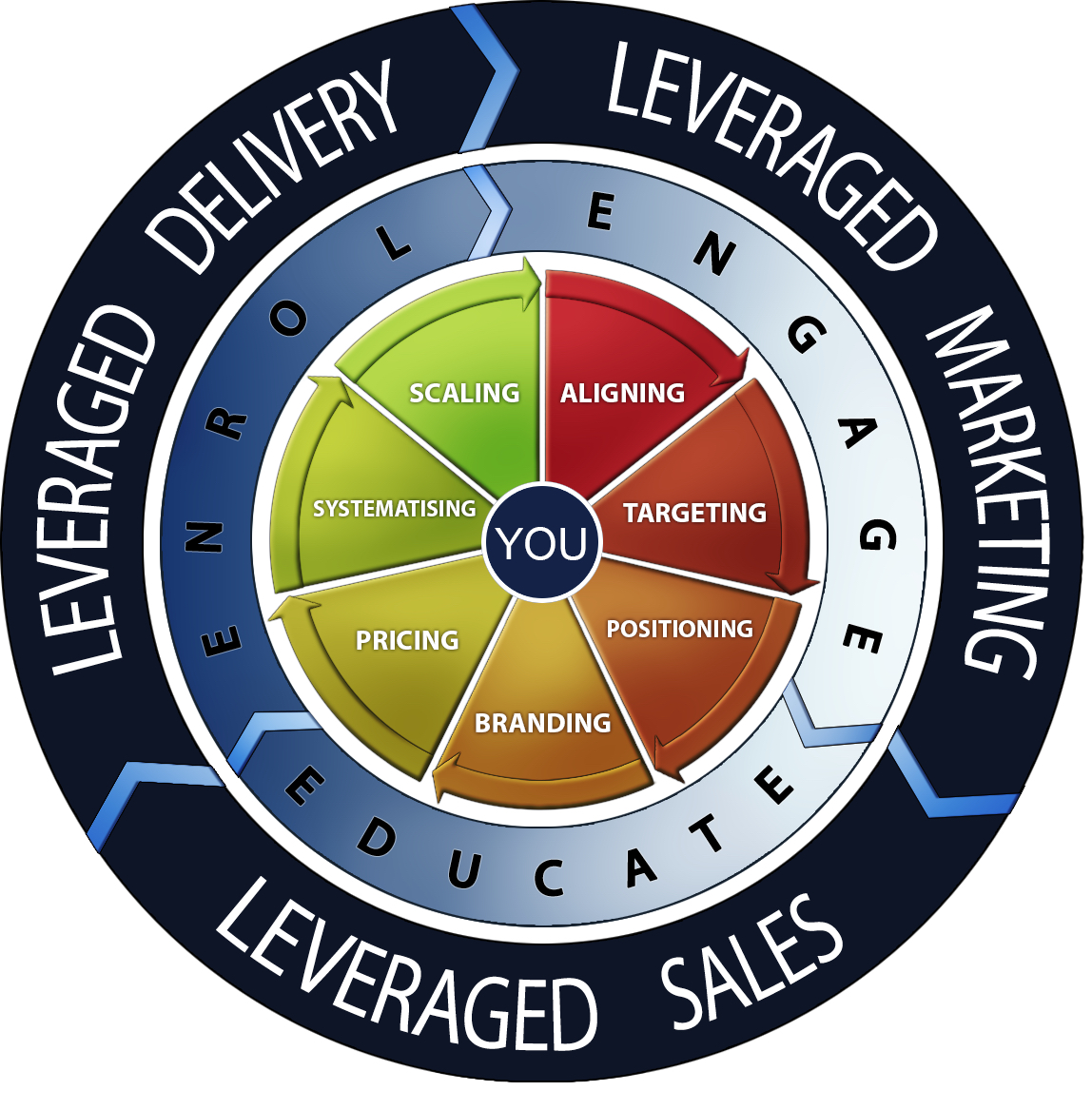 And that's why in terms of the contents of the book, I organised the chapters according to the components of our leveraged business flywheel: leveraging you, leveraged marketing, leveraged sales and leveraged delivery that draws on the inner dimensions whilst serving the outer activities you do to Engage-Educate-Enrol your most ideal clients.
That's the client journey pathway I talk about – whether it's thinking about your ideal client avatar or your marketing funnel, your sales process or your delivery mechanism. We want the strategy – the vision, values and goals – to inform the decisions you make about the inner dimensions as well as how to drive the wheel operationally.
The aim with iSuccess is to make sure we're driving the right vehicle and that the vehicle is in top notch condition and is attracting passengers who want to go on the journey with you. The work we do is in implementing effective and efficient business design and business process design that underpins your ability to meet the strategic and revenue goals you set for yourself.
Ok, so in summary, the iSuccess 7-dimensions that I mentioned in the last episode/article, this is the engine that drives your business with a strong purpose, profitability and process across your end-to-end customer journey.
Now the way I look at each of the 7 dimensions is as a potential critical LEVER to support a leveraged business strategy. Having all those elements working well together is what allows you to build, market, grow and scale your business successfully.
Seeing Your Business as Inner Cogs and Outer Rings
All the moving parts are mutually reinforcing – the inner wheel drives the middle wheel to give you the leverage as you operate the marketing, sales and delivery components of your business. When you strengthen the engine design and improve your digital capability to run each part, you can turn the flywheel faster and more efficiently – and have less frustration and more fun in the process!
As I shared with you in the last episode/article, these 7 Dimensions of Success also form the basis of the curriculum for my Leveraged Business Accelerator programme and indeed the way we organise the resources and courses inside the iSuccess Business Academy membership.
Having these focus points to diagnose bottlenecks is what helps people to clarify, package and scale their business more easily and more effectively. And that's because we help you resolve the common frustrations of building and growing a business so things become more dependable and workable in terms of consistent return on your marketing, and by that I mean sales – so that you reach a stage in your business where it's realistic to scale.
From everything I've studied, seen and experienced with my own business and working with hundreds of clients, I believe that improvements in these seven dimensions is what makes the biggest difference between those who are successful at enrolling people into a high-end program, and those who struggle to win clients.
Why Automation Isn't Always a Good Thing
We'll go through each of the 7 dimensions of success in a moment. But allow me to just emphasise one thing here. If you don't start with clarity in your marketing, sales process and service delivery model and pricing, you cannot create leverage.
If you try to scale, you will end up growing existing problems into much bigger issues. Sources of inefficiency will have an even greater negative effect on performance. If you have bottlenecks in your business operations, then the issues they cause will be multiplied.
Bill Gates famously said:
"Automation applied to an inefficient operation will magnify the inefficiency."
Sadly, business planning is seldom taught in a holistic and inside-out manner. In books, topics are nearly always taught separately, never looking at the dynamics of the full picture. Business courses too lean heavily towards the mechanics and skills side rather than looking at overarching strategic business models or the personal traits and attitudes of the business owner.
Most business education is quite linear; it covers the tangible, operational components but can fail to give you a feel or flair for business as a whole.
I've also found this with business improvement methodologies like Six Sigma or Kaizen, which are intended to help identify root causes of problems or inefficiencies and identify any unbeknown co-dependencies in a process, including both human and technical errors. It's very useful in a manufacturing process, but I've found it's quite hard to apply this directly to a service business, because the moving parts and the human elements are very different.
As an independent practice, your business vision is totally yours to define – remember that with your goals, it's personal not just business – that's why we place YOU at the heart of things. It's your vision and values – what you want to be known for, your mindset as CEO, what kind of work you want to do, how you want to serve the people you serve, and how you wish to operate are much softer factors in achieving success.
As such, service businesses tend to require an additional set of impact indicators than manufacturing or retail business performance metrics. For some areas, you're going to need a deeper dive that just self-evaluating which elements are strong and which are weak, but it's a good holistic model to start the business review off with.
Nonetheless, not appreciating how one part of your business affects another is without a doubt why many people struggle to identify the real causes of business problems – how well each part is working individually and how well they're working collectively as a balanced business.
The iSuccess 7 Dimensions as Critical Levers for Business Success
So let's go over the seven dimensions – and then I'll illustrate what I mean about finding the real root cause of a problem – and how the iSuccess levers can be applied. And I'm going to illustrate it using three examples from client projects I've been involved in (which are all quite common).
#1 – The ALIGNING lever
The aligning lever ensures your road is paved with purposeful intent and your business is a source of happiness not stress.
Building a business that achieves your vision of how you wish to serve people, and the impact you want to have, means aligning everything you do with your authentic self, as the foundation for your brand and behaviour in the marketplace.
If you started your own business with the idea of greater freedom and control in your life – what, in the Preface, I called leveraged living – you need the right philosophies, strategies, tools and support to succeed, especially if you have a bigger vision for how you want your business to grow. Make sure your growth model is one that does not end up with your business running your life and taking up all of your time.
Your goal is to be working "on-purpose" and in integrity with who you want to be in making a difference in this world. Your business should be a source of fulfilment.
The targeting lever is used to identify a clear, relevant and profitable niche and the ideal audience and offer. Pinning down your best market – in other words, getting clear on your "ideal" audience and "unique value proposition" to them specifically – is by far one of the most important yet frustratingly difficult aspects of building a successful and viable business.
It's really worth spending time on this dimension. You want to get crystal clear on your "perfect people" by pinpointing a single persona – your ideal client avatar (ICA) – who is totally right and primed for what you do. You need to ensure this group are hungry and willing to pay for what you deliver. Identifying the biggest beneficiaries of your expertise is a vital investment, because this will determine your profitability.
With a strong message-to-market match, you will attract a constant string of interest to you. When your messaging is generic, vague or fluffy and lacks the right "hooks", your marketing becomes a constant struggle: time-consuming, expensive and ineffective.
Your best target market is one where you can quickly position yourself as an expert and specialist. A top niche is only profitable if you can gain competitive advantage.
#3 – The POSITIONING lever
The positioning lever helps you become a visible authority in your field of expertise. It's the front engine for your business that generates leads.
Simply put: no leads, no income, no business. When positioning is weak, lead generation tends to be patchy and inconsistent, which you see reflected in your client work and income.
When you're well-positioned in the marketplace, and with some savvy PR, you don't have to work as hard to attract high quality prospects and win them over. It removes all the frustrations and anxieties that keep you stuck in panic and overwhelm.
When you have a unique niche and way of working, you can more easily identify with your target audience and peers, establish a credible reputation as an expert authority for what you do, which attracts business to you.
But you must be visible for clients to find you, dare to be seen, have a "signature" communication style (and channel), professional client processes and build a "velvet rope" around your service community.
#4 – The BRANDING lever
These days, branding is an essential part of the success equation. The branding lever is all about creating an inspiring, irresistible and magnetic brand. And that includes your messaging, copy and content.
Before anyone will do business with you, it's highly likely they will "google" you to check you out. Any time you interact with people – online or off – your digital visibility will matter.
However, don't fall into the trap of doing this backwards – you need to test your messaging with your niche before you start creating brand logos and designs. This means engaging with your audience! Only once you're reasonably sure your core concept resonates with your ideal target market, and you've positioned yourself as the expert most uniquely and best placed to serve them, should you start creating your branded packaging.
#5 – The PRICING lever
Charging for the value, results and transformation you deliver is an essential dimension of a leveraged strategy. But figuring out what to charge for your services can be tricky. There are usually certain money blocks each of us has to overcome to do with belief, self-worth, selling, and many more.
Pricing is one of my biggest talents. The best way to charge what you're worth, rather than just the standard rate of others in your industry, is to consider the real impact your products and services have on your clients and how effectively and efficiently you can deliver a highly desired outcome for them.
Rather than always taking on new clients, you can also increase your revenue by earning more from existing clients without investing time and money to acquire new ones. This can be providing additional value to your core offer through up-sells, down-sells, cross-sells.
People will pay more for the same information available in different formats too – like upselling the audiobook when people buy your print or e-book or offering a reduction on a second course when people buy their first course.
People don't pay for consulting or your time, they pay for a project and results! Start with a product or service that delivers one small first step towards the result your client wants, and then build up to premium products, programmes and services that deliver bigger transformations.
#6 – The SYSTEMATISING lever
The systematising lever is about creating systems for efficiency and smarter working. A lack of clear and straightforward systems is one of the biggest things that keeps a service business from being able to grow.
Frankly, I'm shocked at how many business owners and consultants don't have a marketing system in place or even a game plan. Instead of having a robust workflow for their lead generation and business development, many service professionals are just flying by the seat of their pants.
There's little point aligning, targeting, positioning and branding if you don't also have an effective enrolment process and a delivery system working on your behalf 24/7. Creating structure and reducing labour intensity means you have less anxiety and more time to enjoy the fruits of your success winning new business.
#7 – The SCALING lever
The scaling lever is about expanding your business in a way that helps you achieve both your business growth and personal lifestyle goals.
A successful business is expected to grow, even in economic uncertainty, and in so doing is able to serve more people and increase turnover. However, as a solo professional or group of associates, there are only so many hours of one-to-one you can provide. Even if you manage to hire other consultants who are as good as you are – as the specialist expert – there's an income ceiling.
Scalability is the ability of your business (and business processes and people) to handle a growing amount of work in a capable manner or its ability to be expanded to accommodate that growth.
Hiring, outsourcing and putting a good operational team in place around you means you can leverage your high-level skills and earning potential rather than spend time doing admin, sorting tech and other time-drainers.
Measuring the Performance of Your Critical Levers
Ok, so we have Aligning, Targeting, Positioning, Branding, Pricing, Systematising and Scaling – it's like 7 steps you take to review your business.
Starting with the aligning lever, each dimension either enables or strengthens the next – or indeed can limit or weaken the whole structure. And when you're developing your business, you're going to need to go back and forth a bit to get each one making sense as a whole strategy. 
Now, let's turn to the aims. For each of the 7 dimensions in the inner circle, there's an OUTCOME – the strategic aim if you will – that each helps achieve for the business that leads to "success" – as defined in your vision and values of what's important to you. It's all shown visually in my book in the last chapter, in the print edition that's page 263 – so if you have back that makes it easier to see what I'm talking about.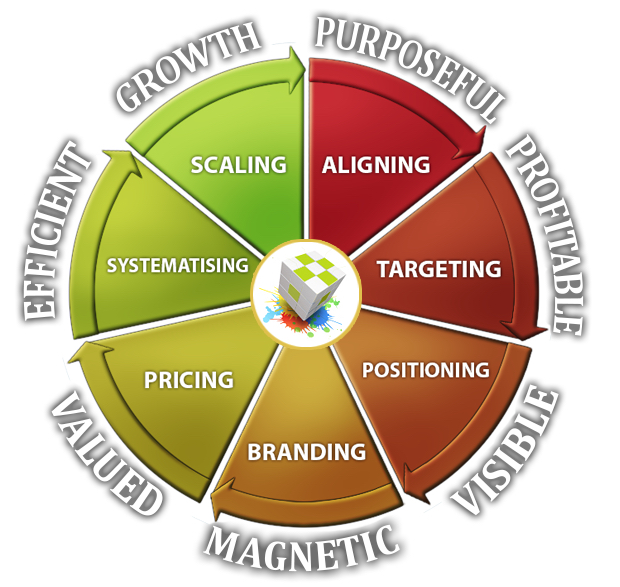 The outer labels can also be thought of as the design goals of your business architecture – each building more and more leverage in terms of marketing, sales and delivery.
So I'm just going to do a quick run through of the outcomes for each dimension or lever that you can apply for business performance improvement: 
1.  The outcome for the Aligning lever is to be PURPOSEFUL.

2. The outcome for the Targeting lever is to be PROFITABLE.

3. The outcome for the Positioning lever is to be VISIBLE.

4. The outcome for the Branding lever is to be MAGNETIC.

5. The outcome for the Pricing lever is to be VALUED.

6. The outcome for the Systematising lever is to be EFFICIENT.

7. The outcome for the Scaling lever is to increase GROWTH.
These outcomes provide broad indicators of success – some will be qualitative measures (i.e. how your business feels to you) and others are quantitative (e.g. tangible growth metrics).
In the subsequent  article, we'll go through the kind of metrics I mean as well as doing a quick self-evaluation exercise to see where you are with each one. We actually divide up the 7 dimensions into elements so there are 14 elements we'll look into.
The whole exercise is what I call The Leverage Test and that's in the workbook that comes free with my book – well the digital copy comes free or you can buy it in print on Amazon.
So we'll do a bit of a walkthrough and hopefully give you some good pointers as to what to review in your own business.
Three Examples of How to Evaluate Root Cause of Underperformance
So I promised you three examples in practice and as I say next week I'll share the self-evaluation and dive deeper into what a typical analysis can help you visualise for your own business.
Right, here's the first example:
A problem that manifests as a sales performance issue may in fact be a consequence of a mismatch between a product and the brand or audience.
Sometimes in a situation like this, we look on the surface and think that it's a pricing issue – that the price is too high – but it can be that actually the price is too low and it gives the impression to your potential buyers that's it not high-end enough or that you're not going to really get into the much depth with them.
Another way to think about this example is that actually it's potentially an aligning issue, or a targeting and branding issue – that the customer does not see either the relevance or value for them. And that's more likely to be a messaging problem. So its important to dive into what's the root cause and you do that by looking at the conversion data and talking to your target audience.
Often we're solving for more than one problem. So here's a second example.
A large business is experiencing low staff morale and senior management insist it's about pay and maybe working conditions. Their blind spot is not thinking that low morale in a team and complaints about working conditions can result from a poor sense of the organisation's vision and values or when the vision and values are not being cultivated internally.
In this example, the problem is most likely to show up in a 360 – that's an interview process where you gather the viewpoints across the whole business or organisation – so across functions internally and externally facing.
The CEO may think they have a scaling barrier, but the real fix would take you back to the aligning dimension then thinking about how you can instil the company's vision and values – it's WHY, its purpose – into team communications and support to staff who then in turn have a clearer sense of what the organisation stands for – its culture and brand.
And the root cause would usually come down to aligning and to an extent branding – because branding and corporate culture are intertwined. Initiatives that help get people on the same page about the vision and values will lift staff morale who in turn help embed this in their role.
Here's another example:
The business is suffering from poor profits, and can't be sure if this is due to low sales, high operating costs or the wrong pricing strategy, which are very different problems to resolve.
On the one hand, this is simply a finance piece looking for example at cost-per-sale or cost-per-acquisition and the cost-to-deliver figures to see where savings could be made to achieve better margins. On the other hand, it could simply be that the sales team need more training so they convert more leads to customers. Or both of course. So the business wants to know where the problems lies and what to fix before investing in sales training.
The 3 Points of Leverage for Fixing Problems in Your Business
Going back to the Leveraged Business flywheel above – we have the three key points of leverage we can look to: Leveraged Marketing, Leveraged Sales and Leveraged Delivery, as well as looking at the conversion figures across the customer acquisition process – Engage, Educate and Enrol.
The iSuccess 7 dimensions help you pinpoint the solutions to improve each cog that drives these. Make sense?
Hopefully you understand a little more now how everything fits together and why people who talk to you about "strategy" as if it's a magic wand or a silver bullet are actually talking about tactics.
It's easier to sell someone on a tactic but it won't usually fix the root cause of an ineffective process.
I'm all about process improvement that brings about performance improvement. I'm all about success in the widest sense of the word – having a business perform well in all elements that help you achieve your vision whilst staying true to your values – your why and what's important.
Next week we'll go through The Leverage Test where I'll give you 14 key elements – two for each of the 7 critical levers – that will help you improve business performance so you can grow and scale a process that's effective and efficient.
When you have a balanced business, you can achieve both the income and impact you want without it grinding you down and burning you out. Yay!
Any questions on how to improve business performance, get in touch. Of course you can also buy my book, download the workbook and join the Leveraged Living Club on FB.
Ciao ciao for now!
Was this interesting / useful ... please follow, like, share ...