The Leveraged Business Podcast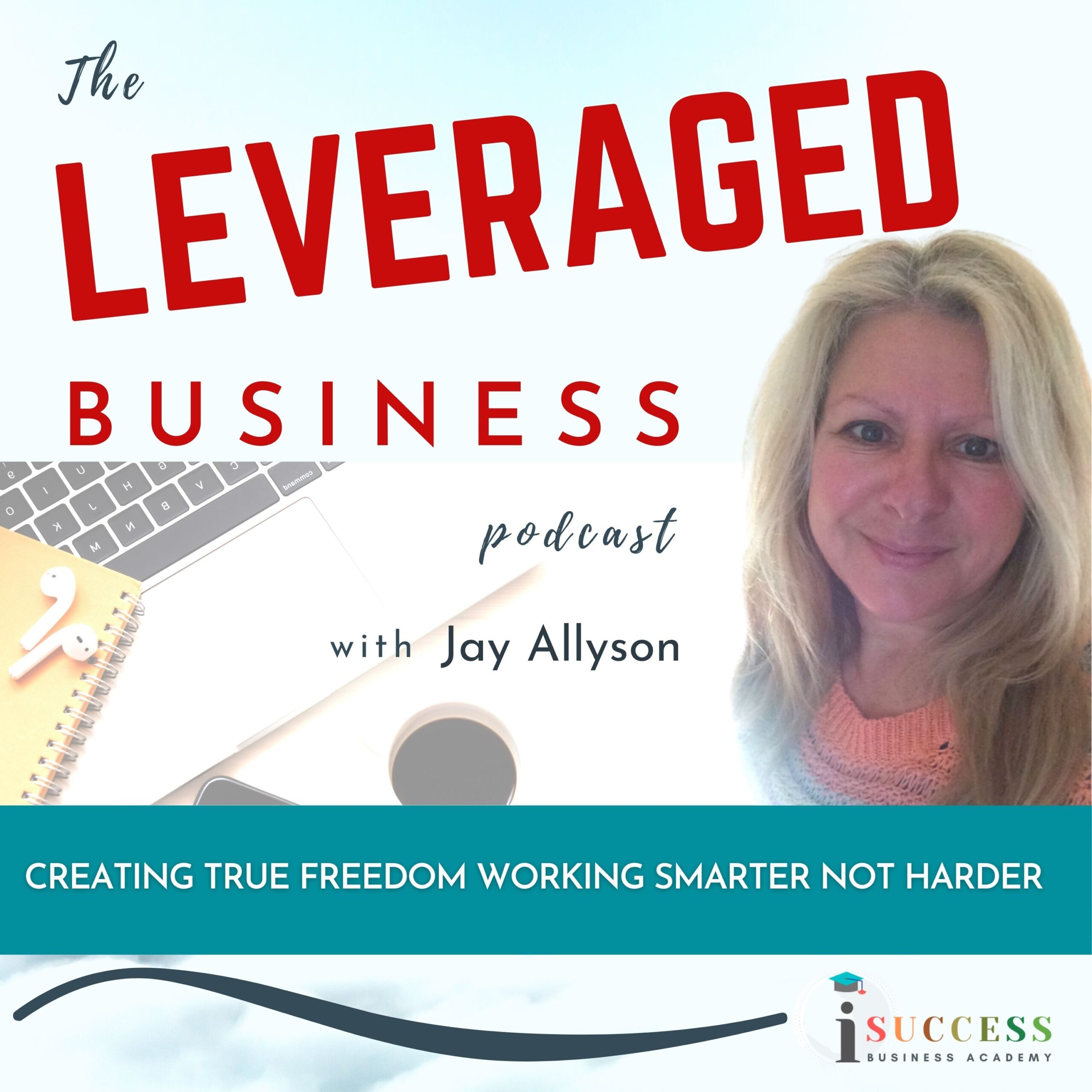 Thank you for your interest in The Leveraged Business podcast
Here's where you'll find what it's all about, who it's for, episodes & show notes. You can also send in questions and apply to be a guest!
You can give the show a vital boost when you subscribe, rate and review. Appreciate everyone's support. 
If you listen to me, I'd love to listen to you…
Listener survey – it's super quick & we'd love to get your feedback
Submit a question for the next 'Q&A with Dr Jay' episode

Click the buttons below to share with anyone you think would benefit
Jay xox
PODCAST DESCRIPTION
How do I Create a Brand, Get Clients, Earn My Worth, Work Productively, Deliver Differently, Grow to the Next Level?
From start up to scaling up, these are just some of the big questions we dive into on The Leveraged Business podcast – all about smart moves for mindset, marketing and money success in building your consulting, coaching or other expert services business.
If you're a consultant, coach or other expert practitioner stuck in the highs and lows of client work, trading time for money and experiencing the revenue rollercoaster in your business, and you want insights and inspiration on how to earn more, work less and grow faster, then the Leveraged Business podcast is for you.
Join me, Jay Allyson, author of Leveraged Consulting in the Digital Age and founder of the iSuccess Business Academy, and some awesome guests, as we share insights on how to start, survive and thrive in the digital marketplace, creating leverage in your business so you can build, market, grow and scale without drama, stress or overwhelm to achieve true freedom and independent success working smarter not harder.
To continue the conversation and be part of the leveraged business online community, join us in The Leveraged Living Club – a private, free group on Facebook. To get more support with creating independent success in the digital age, check out Jay's book and iSuccess Business Academy including the Leveraged Business Accelerator program.
Submit a question for the next 'Q&A with Dr Jay' episodes.
Listen to the Leveraged Business Podcast wherever you  get your podcasts and subscribe so you don't miss an episode!
Podcast episodes + show notes
086 From Idea to Product Launch Success–

Part 2 – The 10 Essential Steps for Successful Product Launches
In this second part, I'll walk you through 10 essential steps to successful product launches. From identifying your target audience to encouraging and motivating those helping you, these steps will help you create a solid foundation for your product launch strategy.
085 From Idea to Product Launch Success– Part 1 – The 4 Launch Types that Help You Build Momentum and Muscle for Launching
Launching a new product can be an exciting, yet challenging experience, and you're going to need a product launch strategy. In this episode, I'll be walking you through four types of launch and talking about general good practice, my experiences of launching, supporting launches and being a participant in a launch. Then next episode in part 2, we'll go through ten critical steps that will help you create a solid foundation for your product launch success.
084 Decoding the Consulting vs. Coach Dilemma– Part 2 Identifying Your Business Support for Strategic Growth
In a sea of professional identities where there's tremendous variation in skills, experience and practice, that brings ambiguity and no 'one-size-fits-all', how do you perceive the different roles and value when you're looking for who to work with? Do you look for a coach or a consultant? Are you looking for a thought partner or accountability buddy? This is what we explore in the second part of our consultant vs. coach dilemma topic.
083 Decoding the Consulting vs. Coach Dilemma– Part 1 What to Call Yourself & Why it Matters
In this episode, part 1 of 2, we will think through the main differences are between consulting and coaching, what exactly is behind the consultant vs. coach dilemma, and why it matters to you and your business. You'll learn four key practices you can use in your client relationship that can enable you to move seamlessly between roles when working with a client.
082 Connecting with the C-Suite and Selling into Organisations: A 10-Step Strategic Approach
Connecting with C-suite executives and selling into organisations can be a challenging task. It requires a strategic approach with multiple steps that most business owners don't have the time or patience for. In this episode, we will explore ten steps as key levers for success in connecting with C-suite executives and selling into organisations.
081 From the Revenue Rollercoaster to Consistent Client Flow in Your Business
If you haven't got dependable, manageable and consistent client flow, you may be stuck on the revenue rollercoaster. In this episode, I take you through one of three scenarios, what you need to focus on to improve business growth and how to achieve success.
2021 and earlier EPISODES 1 – 55