Client acquisition process mapping is a great way to improve workflow efficiencies. It's a key route to creating leverage in your business. I absolutely LOVE creating workflows. I do it for my own business and I help my clients do it. And what I love most is that it's incredibly liberating and very focusing at the same time. Because when you lay out your entire end-to-end customer journey from first encounter to final onboarding, amazing things become possible. Let's go through it …
I want to start with the workflow that's the core of your business, your client acquisition process. Because when you lay out your entire end-to-end customer journey from first encounter to final onboarding, amazing things become possible.
PREFER TO LISTEN?

Why Process Mapping Helps You Get Organised
Mapping out your client acquisition process really helps you see where you can tighten things up to improve workflow efficiencies. It's makes everything super clear and helps you focus on improving performance at key steps.
Let me illustrate what I mean by taking you back for a moment to the interview I did with Selina Johnson for the Leveraged Business Podcast a few weeks ago – episode 24. We focused on outsourcing and using virtual assistants to gain back time to do the high-level work, what Selina calls "working in your genius zone" by delegating some of the admin, operational work and marketing tasks that take you out of your genius zone. It stops you getting bogged down in the details, it's takes you closer to being the CEO in your business rather than the COO – and right now, you're probably being both!
As we talked about in my interview with Selina, when you set out all the tasks in your business and look at your end-to-end customer journey, you can group things into functions: general admin, marketing, sales, onboarding, client delivery; and then if you have VA support, it's more straight forward to assign tasks to people.
From that vantage point, and especially if you're doing everything yourself right now, you can identify where the biggest bottleneck is and what you might want to focus on getting help with first.
Well, the thing that came up several times in that conversation, and in many of my follow ups with clients and listeners, is that in order to get started, you need to get organised and that's all about creating WORKFLOWS. You can't start to build capacity and create leverage until you're clear on your key business processes.
Getting organised, streamlined and efficient is something you should do as preparation for hiring a VA or you can use an agency or operations management person to help you line everything up.
And what better starting place to improve workflow efficiencies than your client acquisition process.
Mapping Out Your Client Acquisition Process as a Workflow
So today, we're going to start with organising the step-by-step process for how you get customers or acquire clients. Mapping out your client acquisition process as a workflow is an important because it (a) makes you more efficient and (b) allows you to set out the brief for a VA, as well as to aid the onboarding and training of the person you hire so they can more easily take over all or parts of the process.
When you have everything mapped out, you can see exactly where to delegate tasks and what skills or training are needed, as well as which bits should be your main priority. Because it's not always as obvious as we think. And it's hard to give some things up, right?!!
I absolutely LOVE creating workflows. I do it for my own business and I love helping my clients improve workflow efficiencies. It's great seeing their eyes light up when they have the entire process, or even key parts of it, all mapped out. And what I love most is that it's incredibly liberating. Because when you set everything down that you do in your business, you can see a bit more where your blind spots have been.
So let's first look at the client acquisition process and go through some examples, both B2B and B2C and then, I'm going to go through what a workflow looks like and the kind of tools you can use to create a simple process map.
In process management in more complex business operations, sometimes there's not just one lane or layer, there are multiple players doing different things, some run in a sequence, some run in parallel, and some are co-dependent. Imagine a swimming pool where you have "swim lanes" for each function.
As you map the process out, you build up a useful picture of what, who, how and when each task comes into play. And you can also more easily see where the communication or exchange of information needs to happen between each lane.
When you see this in action, hopefully a few lightbulbs will go off for you! 
How to Create a 3-Step Engage-Educate-Enrol Funnel
Right – so first the client acquisition process – the workflow will be a bit different depending on your business. But generally, I stick to a three-stage journey for attracting, nurturing and making the offer. I've mentioned it before – it's what I call my client dating model. You can find some visuals for that in my book and to illustrate the process, the Engage – Educate – Enrol pathway I talk about.
So the first part of the process is ENGAGE. Set out all the things you do to engage your audience, to bring prospective ideal clients into your world, to build a list of contacts. Think of all the things you currently do to generate interest – content marketing, speaking, networking, direct outreach, lead magnets for organic and/or paid advertising traffic. What and who is driving all of that.
At the helm is your marketing strategy, your content strategy and/or your advertising plan. What's involved in each thing you do exactly? What skills are needed? Are you the best person to do those things or would it be quicker and more effective to get someone in to help?
When someone becomes a contact or opts in as a subscriber on your email list or becomes a follower or connection on social media, what's your follow up process and what's the narrative? How are you nurturing these new contacts and building the relationship? Do you have a series of messages? What do you say, how often do you contact them and could you get that set up by someone or put it into an automation from your contact management or email marketing system?
If that's something you struggle with, writing effective email series, coming up with great subject lines and tracking engagement and conversions, perhaps it's time to get some help on that.
Think about the purpose of those follow ups – the intention is to build a relationship so your contacts can get to know you, hopefully like you and eventually trust you. I'm sure you know the whole 'you don't ask someone to marry you on the first date' thing, and it's the same here: don't go making an offer to promoting your thing right away, court them a little, nurture the connection first.
That next step is EDUCATE – where you're giving before asking them for anything. Make sure people on your list are the first to hear about new things you're publishing and sharing. Offer them a free access to a valuable thing you have for them. That might be a white paper, a webinar, a video series or just your next article or podcast episode. Keep them in the loop without being tiresome.
At some point, maybe you phone or even mail them a card perhaps?
If this is something you struggle with, reach out and I can share some ideas around what to say in each of your posts or emails as you build the relationship.
This is exactly the same principle whether you're working B2B or B2C, in that your content and thought leadership builds your profile and positioning. However, the client acquisition process for Business to Business is quite different to when you're direct marketing to individuals, business to customer so to speak.
The main distinction with B2B, where you're selling into organisations, is that we don't generally need lead magnets or fancy funnels. They just don't work. For B2B, the 'engage' part of the client acquisition process is more about connecting with your ideal people. For that you need to begin by researching the organisation so you know who you need to get in front of in terms of the decision makers. This way too, when you make direct connections and reach out to individuals, you can do so with the right intention as a personal connection or look who else is connected that that person and suggest an introduction.
Having templates for those outreach messages is pretty handy as a starting point. Even if you're not sending them via automations or creating mass email campaigns, and adding in some personalisation, templates for message 1, 2, 3 and so on and reminders for when those are sent out, that can save you a lot of time.
At some point when the connection is warm, you can invite those people to a one-to-one call where you can find out more whether what you do is a good fit for what they need. As we covered in consultative sales conversations article a few weeks ago, this is where you can ease into the ENROL part of the process where you make your offer and sign them up for one of your programmes or services.
There's a simple diagram for this, which I've included in the show notes. It shows the kind of content you can use to drive the Engage, Educate, Enrol stages in the client acquisition process. Sometimes we over complicate things, right? So I'm a big fan of simplifying your marketing and sales process.
How to Simplify Your Marketing & Sales Process
When you observe the marketing around us in today's digital age, it looks incredibly time-intensive and difficult – snazzy websites, social media, sponsored ads, lead magnets, landing pages, sales pages, funnels, email marketing, messenger bots, the list is growing. It can make you feel marketing is complex, daunting, difficult and expensive.
Even to those like me with digital capability from years working in the digital arena, there's now just this massive maze of confusing options and people are flitting about from one shiny thing to the next hoping for a quick result.
Simplification is the "solution" we crave and need to overcome "paralysis by analysis", "fear of failure", procrastination and all the other mindset barriers that keep us from taking action and moving our business success forwards. And one of the best ways to improve workflow efficiencies is to reduce waste – what we call "lean" process management.
And the myth there is some silver bullet that will have clients flooding into your business is perpetuated by the more prolific marketers and social influencers who have moved into the consulting and coaching spheres and are promoting how to get clients via LinkedIn, Facebook, Instagram, YouTube. Oh and now Clubhouse is the latest trend.
You can easily get brainwashed into thinking that:
Digital marketing is complicated and you need some special formula

That you have to be relentlessly singing and dancing on every digital platform the planet has to offer, and/or

You could never be "as good as" these other famous leaders.
Let me kick this fallacy to the kerb here right away by saying this is not the case. Leverage is all about being laser focused, selective and systematic about what, to whom, when and how you engage and promote things to an audience.
A simple, three-stage process is all that's needed to take people on the journey from problem to solution. Keeping things to three stages certainly goes a long way to making your efforts both manageable and successful, particularly for consulting or coaching.
STEP 1 – CAPTURE INTEREST TO ENGAGE & BUILD AN AUDIENCE
Share great content via articles, podcasts, videos, social media posts to attract followers; and/or publish an e-book, webinar or free online course with an opt-in or sign-up form to capture people's name and email.
STEP 2 – GIVE VALUE TO NURTURE & EDUCATE YOUR PROSPECTS
Demonstrate your leadership and build the relationship via your chosen digital platforms by helping and interacting with your community.
STEP 3 – HAVE A PREMIUM OFFER TO INVITE & ENROL YOUR PERFECT PEOPLE
Invite your subscribers and followers to a free consult or exploratory call. The perfect people will take that next natural step.
Here's the skeleton process map for that – your workflow is what you want to happen at each step:
That process is all I do – all my content feeds into that process. In fact, skipping step 2, I've attracted clients to my consulting business (mostly through LinkedIn, Facebook and word-of-mouth referrals) without even having an email list at all. Go figure!
Just make sure your choice of content and your preferred platform is playing to your strengths as well as matching to your target market's preferences and where they hang out.
This is why I urge you to start with the bare basics, make sure your messaging is working and you're getting a good conversion of the right kind of prospects to those free sessions. After that you can turn up the dial and build up something more multi-faceted once you see results coming in. 
As part of your marketing plan, you may have created a specific piece of content to give away, which you can use as a lead magnet or free resource to build your list or catch the attention of your prospects. You can offer different things to different audiences to target and segment your contacts a bit more.
Creating a Structured Process to Enrol Clients Efficiently
The biggest test for your marketing and sales process is how they engage with your content and how well those paths convert into enrolments.
Since your lead magnet and subsequent follow up should lead seamlessly into your sales process, segmenting your prospects will help to filter out those who are not a good fit for what you do.
You can have the best service ever, but if you don't have a good sales process, the people you engage and educate will fall through the cracks before you can enrol them. Your sales process needs structure and your sales copy needs to speak to the conversation going on in your prospects head – their wants, needs, hopes, fears, objections, and so on.
Your sales page is a critical part of the entire end-to-end client acquisition process.
And I did a whole article on how to craft a high converting sales page back in February.
The call to action (or CTA) is a critical part of understanding your prospect's next best move towards becoming a client. So, make sure it stands out throughout your sales page as an invitation to take the next step. For high-end programmes and services, that's likely to be an application for a discovery or strategy session with you, rather than a 'buy now' button or an order form.
Most clients won't sign up to anything over a few hundred dollars without having a conversation. Even if you're an agency offering a specific "done- for-you" package, I'd still advise you pre-qualify your clients through a consultation session. In this way, your call to action will be to "apply" for a free consult session (your sign-up call).
Those calls are a key part of your client acquisition process. In the spirit of consultative sales, your enrolment call is important for both you and your prospect to find out if what you offer is right for them and is really going to help them achieve the specific outcome they want.
The final leg of the client acquisition process is obviously the sign-up, followed often by contract agreement, taking payment and onboarding. Because in many cases, the "paperwork" can sometimes take a few days of back and forth or perhaps you invoice after each milestone of a project, I like to add at least let my new client know the first onboarding steps after the signup.
This helps your new client to get started with you, adding confidence and trust to the transaction before parting with the actual money. Having a simple and efficient closing process helps enrol clients quickly and gets them off of your prospecting to-do list and onto your onboarding part of the workflow.
Tools to Use to Start Automating Your Workflows
Now let's move onto digital tools you can use to help map out the whole client acquisition process so that it's easier to plan, organise, delegate and/or automate and track everything.
The first tool I want to tell you about is called Toggl – a time tracking tool. But if you haven't heard of it, go to toggl.com and take a look. You can download the free app and have a play. I think Toggl's a marvellous tool for helping you see where you're spending time on the different functions of your business. You can colour code and time block and see both the percentages and the spread in a visual way.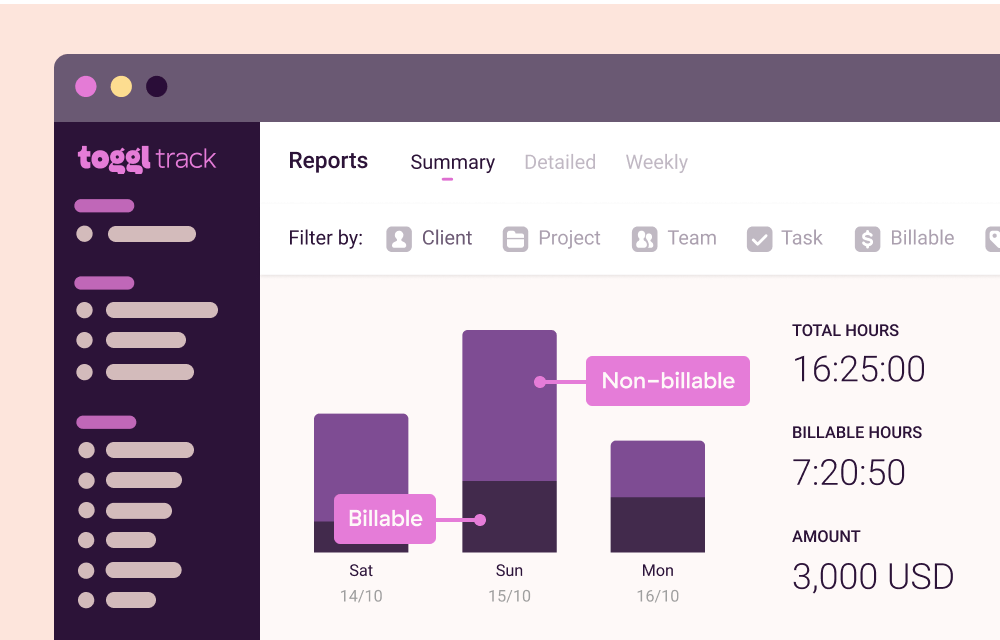 Circling back to our client acquisition process – you'll remember it's made up of admin, marketing, sales and onboarding tasks. Toggl is a great way to see how long all of that takes you per client that you bring into your business.
What I love about automation tools though is their ability to help you visualise client acquisition process – the entire end-to-end customer journey in fact. I'll mention the pros and cons of a few different tools I've actually used or looked at. But I'm not going to go into detail.
There's a useful article by Technology Advice on comparing and choosing workflow automation software – and I've put the link to that in the show notes. If this is an area you want to explore, the best way is to watch the demos, go in and have a play, create a simple process map and build out any complexity from there.
There are a few good tools that simply help you to map out your process as a workflow. I usually use LucidChart, because it's what I'm used to.
Here's a process map workflow I created using LucidChart. There's a couple more in my book, go to the index of figures and find Sales, Tracking and Onboarding process maps.
Even on the free plan, with Funnelytics you can do a lot with it in terms of mapping and logic workflows, but the free plan doesn't do any forecasting whereas Geru does. However, Geru doesn't handle the tracking & conversion analytics of Funnelytics Pro (that's the expensive bit you get with Pro).
Both Geru and Funnelytics are planners and forecasters. You can't create lead generation or sales pages with them. For that, you'd need something like LeadPages or Clickfunnels, both subscription tools.
My take is that Geru does planning and forecasting very well – see tutorials on Geru to see how easy it is to create a workflow process map. Although it seems clunky compared to Funnelytics – check out the demo here – Geru's lifetime deal (still just $67 at the time of writing) is so incredibly good value for money that if that's the main bit you need, it's a no brainer.
On the other hand, Funnelytics free version works brilliantly if you're just wanting to map out a process, and it seems easier to use than Geru or Lucidchart. However, I don't think the free version does any forecasting.
So in summary, I'd say: 
The Funnelytics free plan is fine if all you want to do is planning and process mapping.

Get the Geru lifetime deal if you also want to do forecasting and play around with numbers and targets.

And if you want real-time tracking and conversion analytics capability, you'll need to pay to get Funnelytics Pro.
Workflow tools that make the actual process itself easier to manage. The right workflow automation software can help you – and your team if you have one – track progress across tasks and campaigns.
Visualisers and planners are super helpful for complex processes with lots of moving parts because they help you explain to your VAs or your whole team what they're doing, when they're doing it and how it relates to other people's tasks and timelines.
Some workflow tools include built-in forecasters and analytics, which have the added bonus of helping you pinpoint inefficiencies and focus on key conversion points.
Zapier is another great tool to link forms and data together so that's worth exploring if automation and integration is where you're at.
The Leverage Benefits of Workflow Tools
The magic of all these tools is that they allow you to build a visual map of your workflow without any need for technical knowledge or coding. You simply drag-and-drop each component to create flow chart setups.
From a leverage point of view, you can gain immediate benefits just from seeing the process in visual form. It helps you stay organised and on track, and it's easier to delegate tasks if you want to train up a virtual assistant.
If you want more leverage, you can use tools that allow you to forecast and track the numbers of people moving through your process or funnel, which means you can optimise where you spend your time refining and improving each component.
At another level, some tools enable integration with forms and trigger actions, such as an email going out when someone opts in or an invoice being generated when someone buys a product.
The possibilities to improve workflow efficiencies and create leverage are endless. And it all starts with mapping out your client acquisition process step-by-step-by-step.
So hope this was a good topic, let me know what you're finding most useful.
Was this interesting / useful ... please follow, like, share ...